Simultaneous Time
Aged 50
Years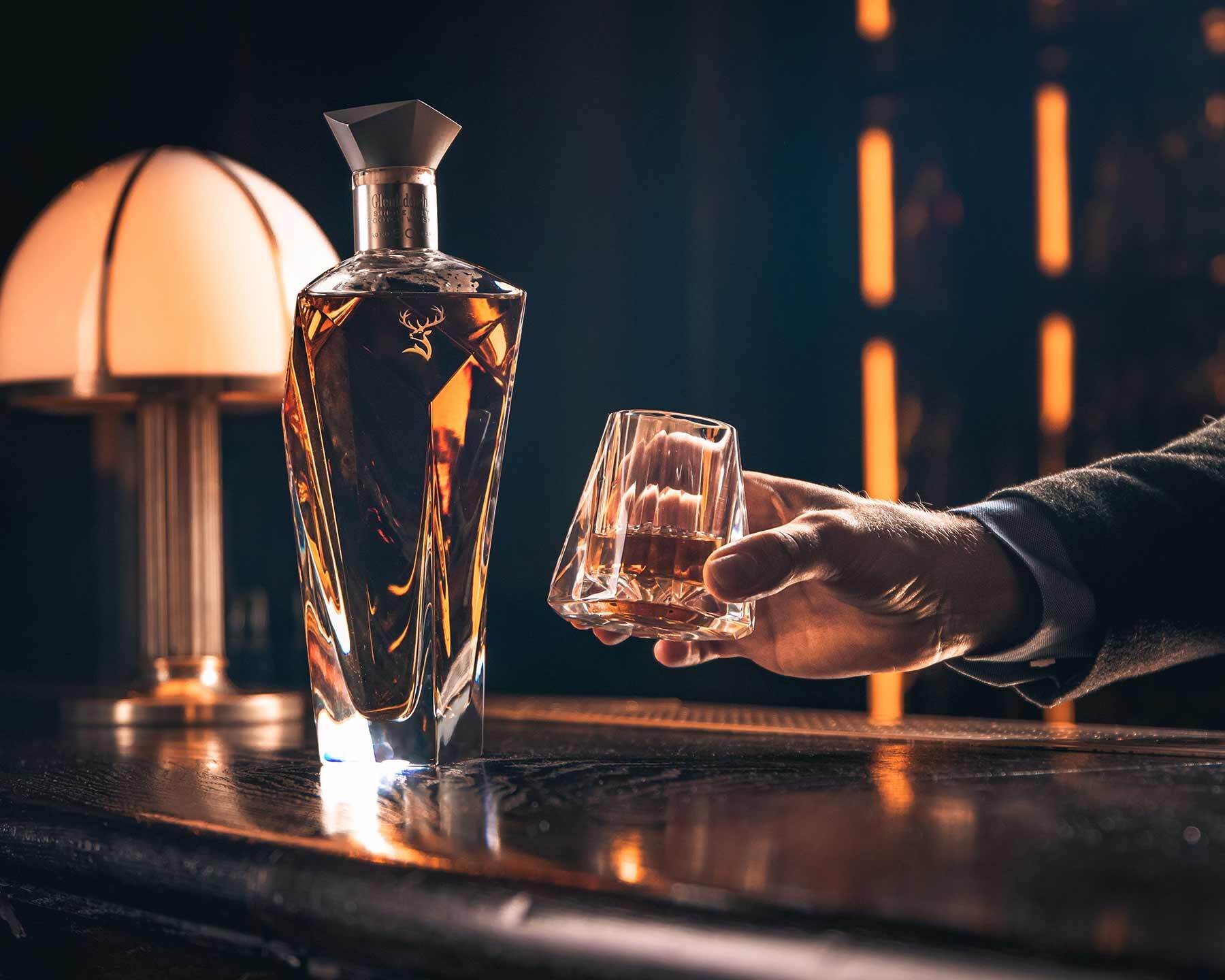 ONLY WHEN THE WHISKY REACHES 21 YEARS OLD, IS IT CONSIDERED WORTHY TO BE SUITABLE FOR FURTHER AGING. ONLY THREE CASKS OUT OF THOUSANDS REACHED FIFTY YEARS. THREE MALT MASTERS HAVE OVERSEEN THE MATURATION OF THIS WHISKY, OVER THE PAST FIVE DECADES.
The Glenfiddich 50 Year old defines a deeper meaning of a fifty year old whisky
As the years accumulated in a cask increase, so does the rarity of the whisky inside. This is the inextricable link between liquid and time. Glenfiddich 50 Year Old is not just another rare whisky, it is a maverick statement. Fifty years experienced not chronologically, but all at once.
WE HAVE COME TO SEE TIME AS CHRONOLOGICAL, NARRATIVE, SEQUENTIAL. IN A MAVERICK AGED WHISKY ALL THE TIME IS EXPERIENCED SIMULTANEOUSLY - FIFTY YEARS ENCAPSULATED IN ALL ITS RICHNESS AND DETAIL WITHOUT EDITING.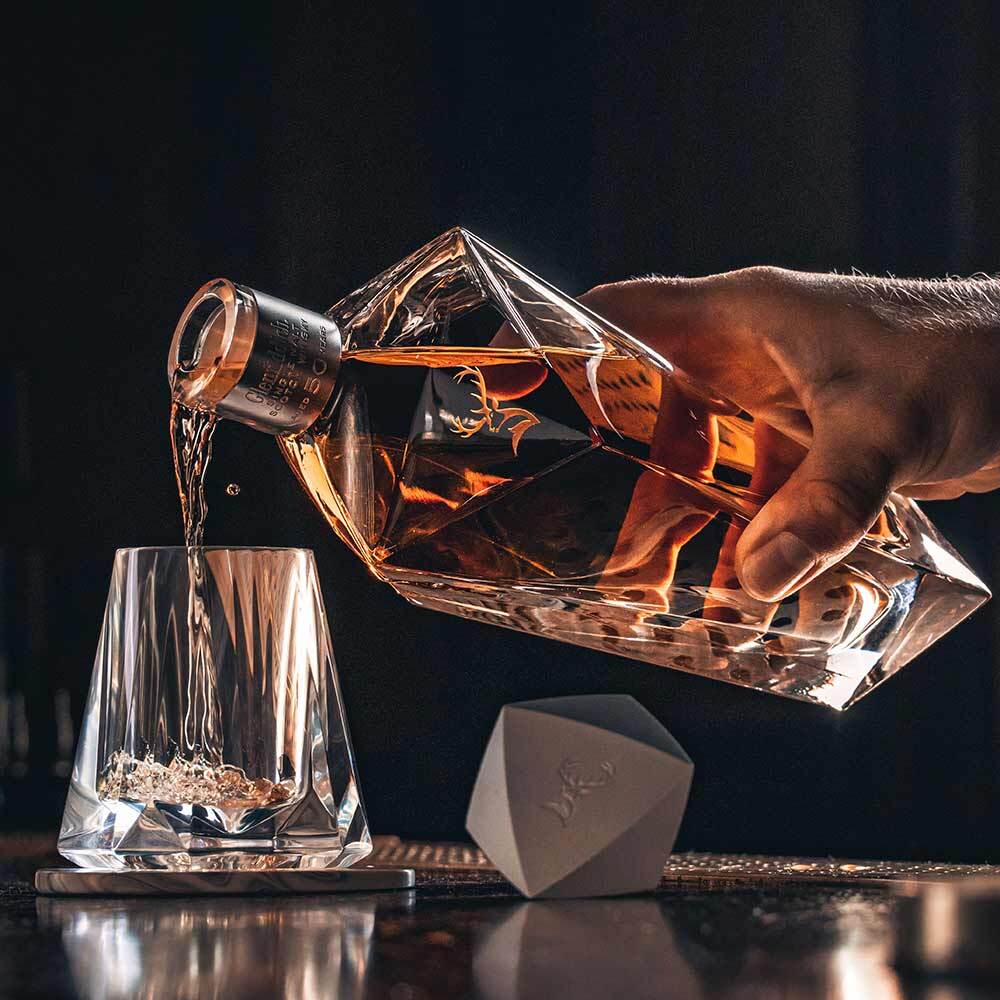 The Tasting Notes
Nose
Rich orange peel and clementine meet complex notes of Madeira cake and muscovado sugar. Maturing over time into the dewy petrichor of a Dufftown morning, mingling with flowering geranium.
Taste
A lingering sweetness softens into deep, silky smooth oak tannin and sun-dried vanilla.
Finish
Oaky, sweet and incredibly long-lasting.
Every decanter of Glenfiddich Fifty Year Old is a hand-blown, bespoke piece.
THE THREE SIDED DECANTER FORM IS ICONIC TO GLENFIDDICH. THE FORM IS MADE OF TWO OPPOSING TRIANGLES - ONE AT THE FOOT AND ONE AT THE SHOULDER. THE DRAMATIC TRANSITION BETWEEN THESE TWO FORMS NATURALLY REVEALS THE EPONYMOUS VALLEY AS AN ELEGANT FACET ON EACH OF THESE THREE SIDES.
THE STOPPER IS MILLED PRECISELY FROM ALUMINIUM, PROVIDING A COOL COUNTERPOINT TO THE TRADITIONS OF HAND BLOWN CRYSTAL.
THE DATA CLOUD, 50 YEARS OF CLIMATIC DATA
AIR PRESSURE, TEMPERATURE AND HUMIDITY… Dramatically affects whisky maturing in a cask.
The structure of this packaging takes fifty years of climatic data gathered in the precise Scottish location where the whisky was aged at Glenfiddich's Dufftown distillery. Data artist, Manuel Jimènez Garcìa, then uses this raw information to create a bespoke 3D structure, bringing life to every second, of every day, of every month of those fifty years.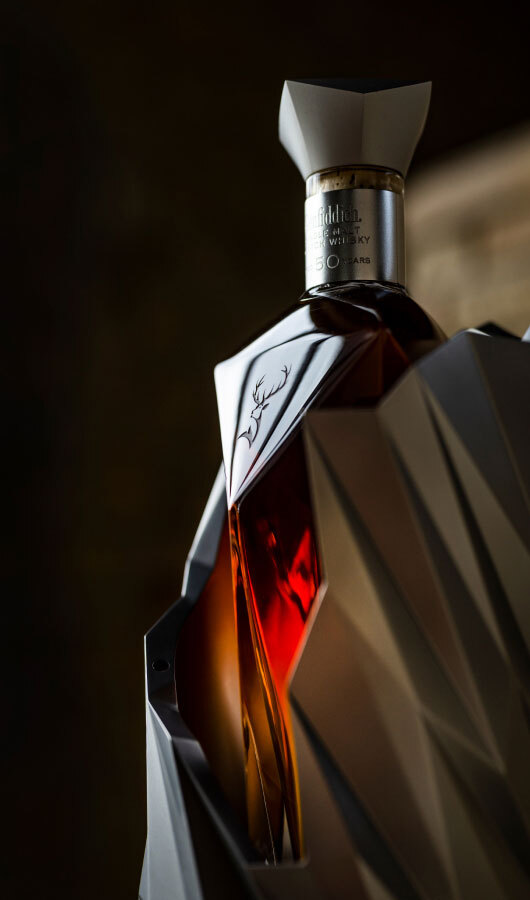 DECONSTRUCTING. MANIPULATING. REBUILDING.
By decrypting the meteorological data into numerical information, a custom-built algorithm is used to generate a physical language. This language is then used to build the packaging's disruptive form. Much like the rare nature of the whisky encased inside, the unique data can never be re-crafted. The bold structure simultaneously surrounds the liquid with fifty years of elemental ebb and flow - the very conditions that made it.
Simultaneous Time
Five decades experienced all at once