Cumulative Time
Aged 40 Years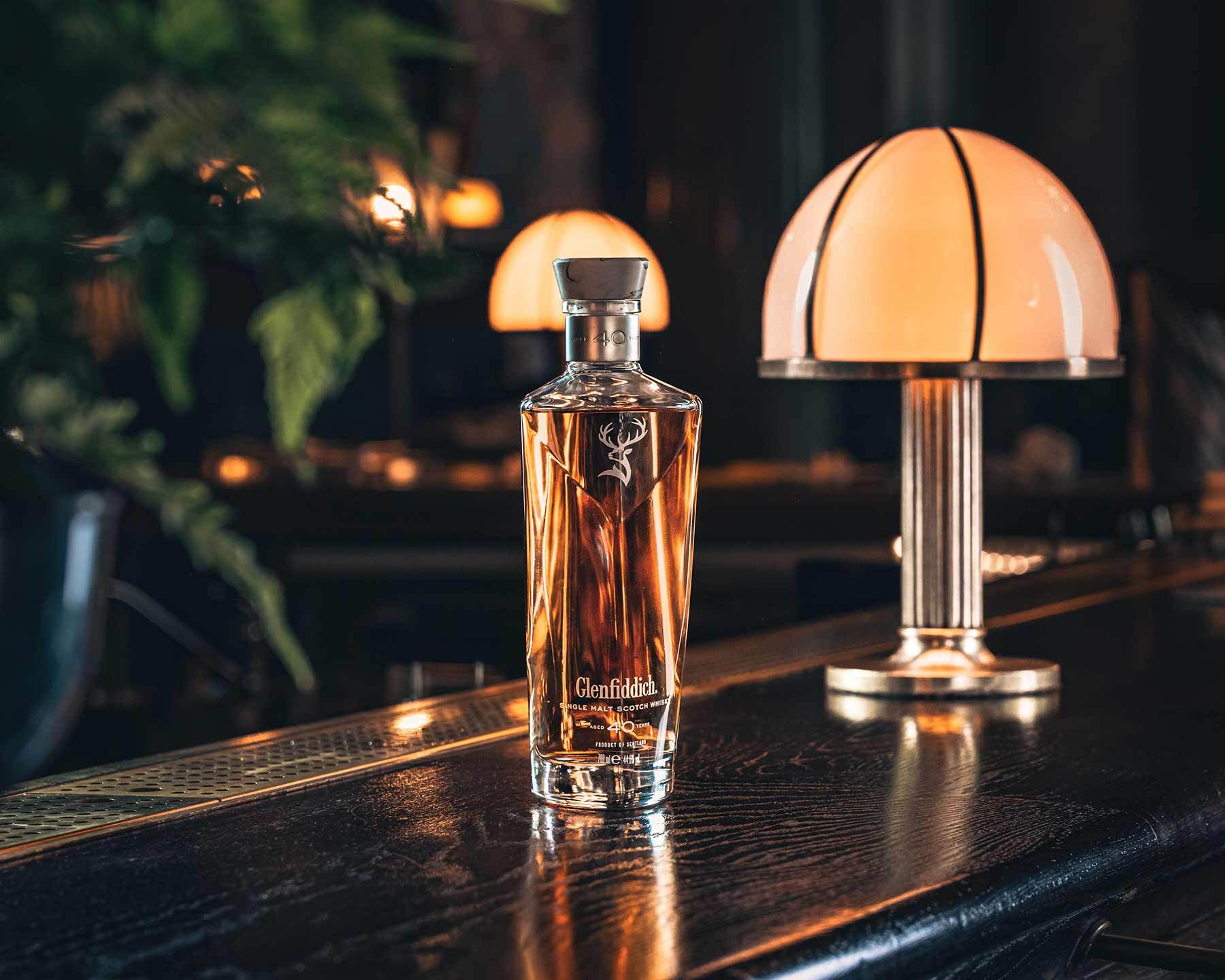 TIME, AN ABSTRACT ENTITY, ACCUMULATES IN LAYERS
It is visible in a rocky valley's many solid strata; laid down over millennia, worn smooth by wind and rain. And with layers comes complexity. Which is why Glenfiddich 40 is so much more than an exemplary single malt. This rare single malt is made through remnant vatting, a pioneering process in which our Malt Master carries one batch over, time and again, and marries it with the casks selected for each subsequent release. Cask after cask, season after season, it absorbs the evolving flavours of the passing years. Melding the many liquid layers of it's four-decade formulation to create an extraordinary expression. It is time, age, experience accumulated. Physical. Tangible. Layer upon layer of maverick thinking, made manifest.
The Tasting Notes
Nose
A deeply layered expression of dried fruits, dark chocolate, roasted coffee and ripe black cherries. Completed with subtle waves of gentle wood smoke, polished leather and cloves.
Taste
A luxuriously full and silky smooth taste, with memories of past releases in every nuanced note. Evolving from deep dried fruit notes to rich fruitcake, dates, raisins and stewed apples, before giving way to dry oaky notes, with subtle hints of bitter chocolate and peat.
Finish
Complex, memorable, and exquisitely long-lasting.
JUST AS GLENFIDDICH 40 IS COMPOSED THROUGH THE ACCUMULATION OF TIME, SO TOO IS THE PACKAGING WHICH HOUSES IT - A BOLD, MAVERICK TAKE ON A GEOLOGICAL METAMORPHOSIS.
THE 40 year old CRYSTAL DECANTER IS HOUSED IN A UNIQUE, SCULPTURAL JESMONITE CONTAINER. DRAMATIC GROOVES CARVED INTO THIS INNOVATIVE STONE-LIKE MATERIAL EXPOSES THE INTERTWINING VEINS WHICH FLOW THROUGH IT, FROM THE SHINING GREEN GLASS OF OUR ICONIC 12-YEAR-OLD BOTTLE, TO THE GLEAMING COPPER OF THE STILLs IN WHICH THis SINGLE MALT WAS MASTERFULLY DISTILLED.
Cumulative Time
When time culminates into distinct character